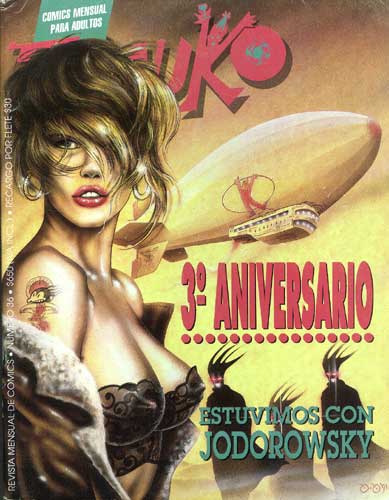 Today while reading this
article
on La Tercera I found out a new chilean comic book is soon to be released. This book is a homeage to the now extinct Trauk0 magazine, that really blew my mind at the end of the eighties. Through this magazine I knew the works of european masters Moebius and Manara, and local stars like Felva, Yoyo, Karto, Lautaro, to name some of them.
Good thing is that through this article I knew that together with the book, there's a documentary about Trauk0 magazine in production. This video is authored by chilean cinema director
Rodrigo Araya
, who had the chance to interview, camcorder in hand, key people that worked on the magazine. In fact, you can see some teasers
here
,
here
and
here
.
This documentary is soon to be released, check his
blog
to see more updated info.
Links
http://edelect.latercera.cl/edicionelectronica/pdf/0,5901,,00.pdf?f=20090722&sup=1&pag=43&rel=1
http://rodrigoarayatacussis.blogspot.com/
http://www.onoff.cl/mo-det.php?ida=120&idcat=3
Photo credits
http://www.ergocomics.cl/imagenes/img/200005010344.jpg
http://www.tebeosfera.com/1/Documento/Articulo/Especial/Chile/trauko36.jpg
http://s3.amazonaws.com/lcp/francoyeliz/myfiles/200005010345.jpg